Parrotdise Perch assists in the placement of rehomed Parrots. If you are interested in adding a Parrot to your family we encourage you to consider one in need of a new home or volunteer to foster those that can no longer be looked after by their current owner. Please contact your local store for more information.
---
Meet Tula! Adopted

Tula is a 14 year old smart, healthy and VERY entertaining African Grey Parrot. Tula's gender has not
been confirmed but we refer to her as a female. We got Tula when she was 6 months old so you can
imagine how difficult the decision to rehome her has been. She has lived with my husband and I, and an
entourage of pet dogs. We are moving to a smaller home and with this move; our lifestyle will be
changing to more frequent and longer times away from home. We do not want Tula to feel neglected or
forgotten, so rehoming her to a family that can give her the love, attention and care that she deserves is
what we want to happen.

Tula has a HUGE vocabulary which consists of words, names, phrases, expressions, and a large multitude
of sounds that she imitates. Tula is a consistent hit with our friends and family, always entertaing!

Tula would come to you with her cage and all its accessories. We would love it if the family that adopts
Tula, would be so kind as to send any pictures, videos, or messages to us. We will miss her dearly and
would really appreciate knowing how she is doing.

There is so much more to tell you about Tula, so if you are interested in adoption a sweet, smart,
healthy, beautiful African Grey, please contact us to learn more!
---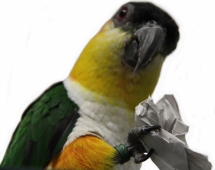 Jinx Adopted
Jinx is an 8 year old Black Headed Caique available for adoption. He was housed with his brother for many years until they began to ruff each other up. Currenly he can not be out of the cage at the same time as his brother and would be best going to a new home. He is extremely tame and will adjust well to a new family. He is fully flightly and will fly to you on cue.