Testimonials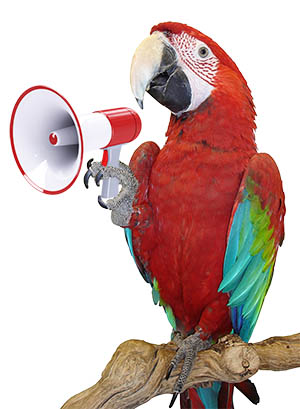 My favourite store ever for my 3 parrots! Such exceptional service and the ladies always know what they are talking about! I wouldn't go anywhere else! :)

Chantal
October 28, 2014

---
Went here for the first time today. Acelyn was amazing!!
Dorata
July 13, 2014
---
Ace is always patient and helpful whenever i drop by. Last time i went, there were so many great toys!

Lourdes
June 26, 2014
---
Recently visited the store - left VERY IMPRESSED with the level of service offered. Not only do they offer an impressive line of products for our feathered babies, they also have incredible knowledge about the best possible care for them. I will continue to drive 45 minutes past plenty of other stores offering 'bird stuff' in order to shop here! The attention to detail is incredible - making sure to offer us the best possible products and guidance for us to keep our birds safe and healthy! Keep up the good work :o)
Sharon
February 23, 2014
---
Kathleen
I have really enjoyed my shopping experience at Parrotdise Perch. Thanks so much for all your expert advise on parrots, toys, and training. You clearly have demonstrated yourself as the best go to retailers for anyone with a parrot.
Nicole
Tuesday August 07, 2012
---

Dear Kathleen,
I just wanted to send you a little note to say a big THANK YOU for organizing and hosting the parrot seminars with yourselves and Kristi Fleming last month. They were extremely enjoyable, with a fun, relaxed atmosphere, lots of valuable information, and a great environment to ask questions and share experiences with other bird owners. And of course, your lovely flock providing on-site entertainment! I can't wait for the next one!
Also, I'd like you to know how much I love shopping at Parrotdise Perch (in case that wasn't already obviousJ). Your selection beats any other store I've ever been to, hands down, and it's always so much fun to look around and see what's new. But what I really appreciate is the quality. It's so comforting to know that the people selling the products are so knowledgeable about birds; it's rare to find that such expertise in most pet stores. You are always able to provide informed answers to questions and make excellent recommendations based on experience. And the fact that you take the safety of the products you sell so seriously really gives me peace-of-mind; you're helping me to look after the well-being of my flock! I know that you face a lot of competition, but Parrotdise Perch offers so much more in terms of the overall value of the experience ñ yours is a business I love to support!
Thought you would also like to know that my coworkers got a real kick out of the photo of the toy workshop on the website. Thanks for letting me know, Christine!
Thank you both again for everything you do to make your store such a great place to shop. I'll be back soon!
Take care,
Kelly
Wednesday May 09, 2012
---

Hello
Just wanted to let you know that we bought a Large Aviary cage during your early summer cage sale. We are soooo happy with it....it met and surpassed our expectations looks wonderful in our living room and the birds are so happy now that they have room to fly. Also the service was great... no problems at all and we look forward to doing business with you in the future.
Thanks so much
April
Sunday November 21, 2010
---
Hi Kathleen,
We had fun in your store this evening its nice to finally go some where were there is so much selection, and knowledgeable people.
Thank you
Sandra and Jaimi
Tuesday January 06, 2009